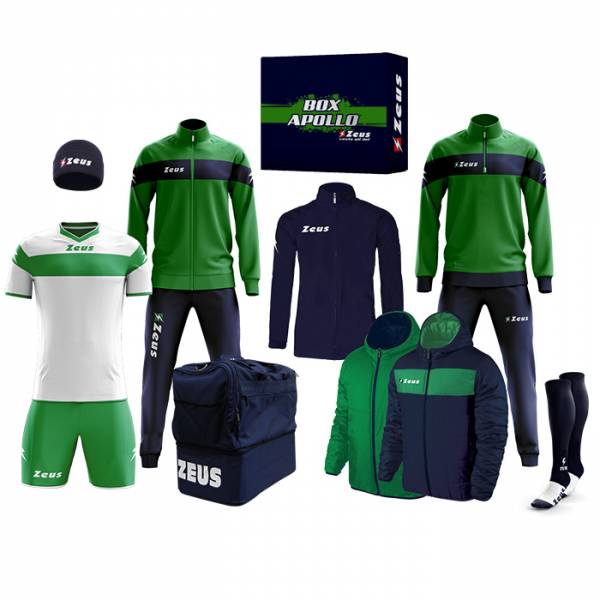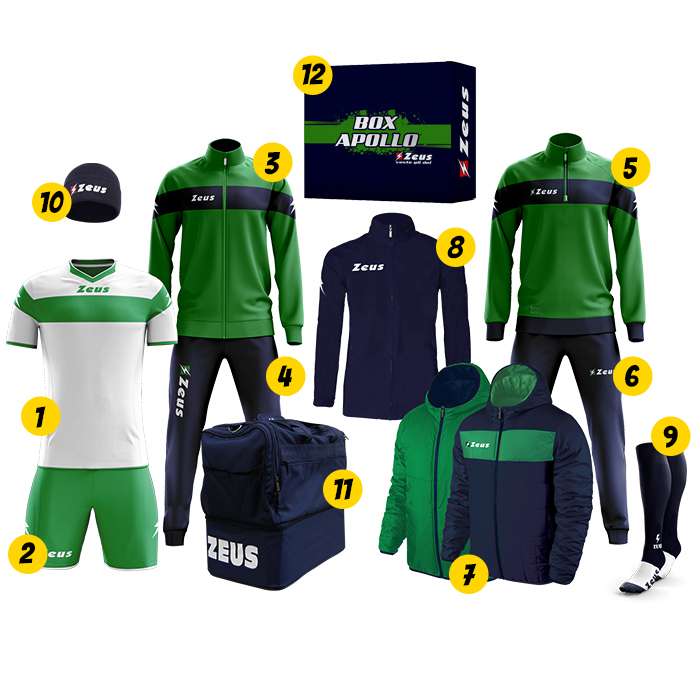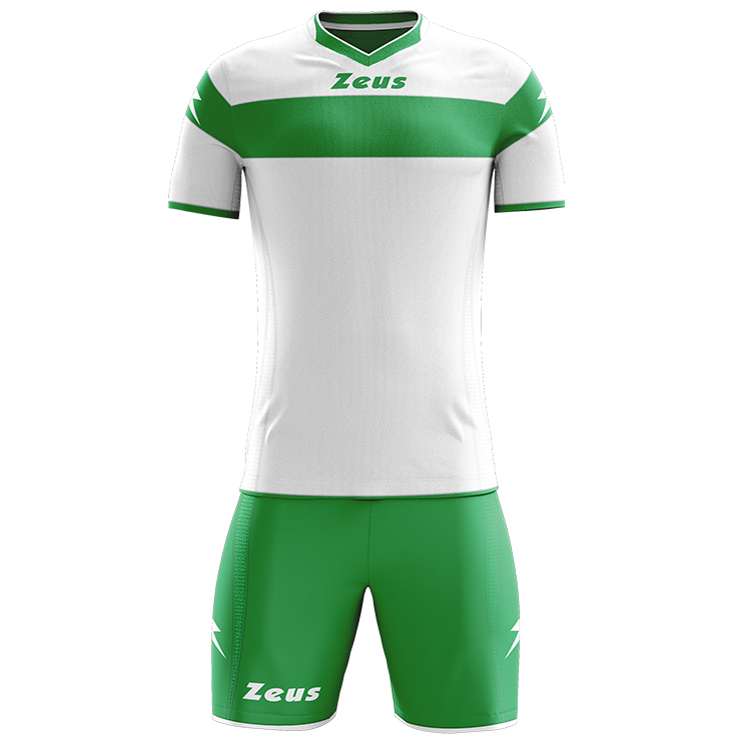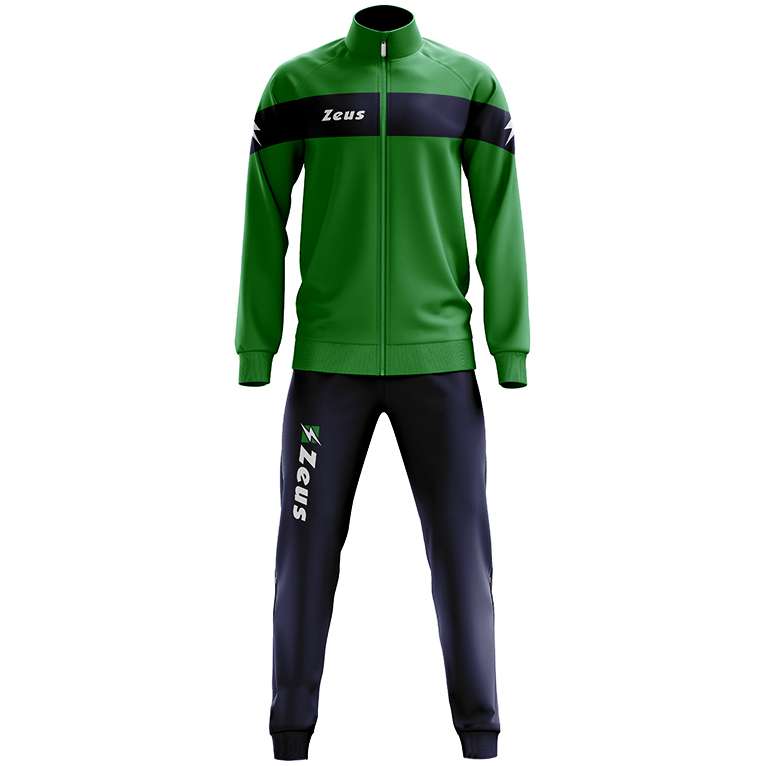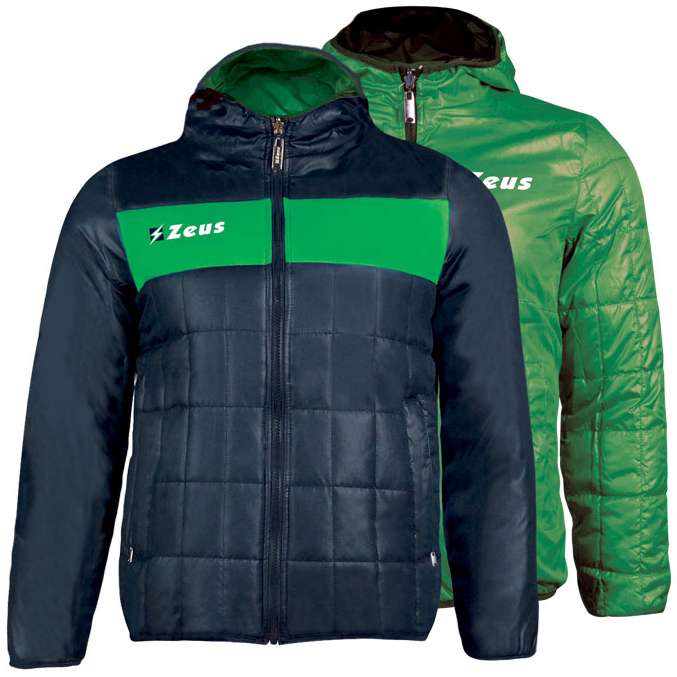 Hot Deal! Already 20 sold within 24h!
Zeus Apollo Football Kit Teamwear Box 12 pieces Navy Green
Item number:

70220262-70220221
RRP1 €199.99
Save: €120.00
What's gone is gone!
Big brands for small prices, every day
Everything available from stock
In stock, delivery time 4-14 days within Europe
Brand: Zeus 12-part Set Set consisting of two tracksuits (one Sweat Jacket and Pants, one...
more
Description
Zeus Apollo Football Kit Teamwear Box 12 pieces Navy Green
Brand: Zeus
12-part Set
Set consisting of two tracksuits (one Sweat Jacket and Pants, one Sweatshirt and Pants), one Football Kit (Short-sleeved Jersey and Shorts), a Rain Jacket, a Reversible Jacket, a pair of Socks, a M pouch, a Bag, a packaging box (an open shell , which can be stowed in the bottom compartment of the Bag), everything is packed in a "BOX APOLLO ZEUS" cardboard box ( No.. 12)
see picture 2: Numbers on the articles are assigned to the description
comfortable to wear
NEW, with label & original packaging

No. 1 + 2: jersey set
Set consists of short sleeves - Jersey and Shorts
Material (Jersey + Shorts): 100% polyester
Brand lettering under the neckline and the right pant leg
Brand logo on both sleeves and both trouser legs
Short sleeve
ribbed, elastic V-neck
elastic cuffs and hem
elastic waistband with inside drawstring
breathable mesh inserts for optimal air circulation
Shorts without mesh lining
elastic material

No. 5 + 6: Tracksuit variant 1
Set consisting of Sweatshirt and Pants
Material (Sweatshirt + Pants): 85% polyester, 15% cotton
Brand logo on the right chest, in the neck area, on both sleeves, on both trouser legs and as a patch on the left side of the seam
long sleeve
Ribbed, elastic stand-up collar with 1/4 zip
Ribbed, elastic cuffs, hem and trouser leg ends
two side pockets with zippers on the Jacket and Pants
elastic waistband with inside drawstring
Zippers on the trouser leg ends
elastic material

No. 3 + 4: Tracksuit variant 2
Set consisting of Sweat Jacket and Pants
Material (Sweat Jacket + Pants): 100% polyester
Brand logo on the right chest, in the neck area, on both sleeves, on the right pant leg
Stand-up collar with full zip
long sleeve
Ribbed, elastic cuffs, hem and trouser leg ends
two open side pockets on the Jacket and Pants
elastic waistband with inside drawstring
Zippers on the trouser leg ends

No. 7: Reversible Jacket
Material: 100% polyester
light polyester filling
Brand logo on the chest (variant 1: right breast, variant 2: left breast)
Jacket is reversible
With a hoodie
long sleeve
full zip
two side pockets (variant 1: with zipper, variant 2: with snap fastener)
elastic cuffs and hem

No. 8: Rain Jacket
Material: 100% polyester
Brand logo on the sleeves and brand lettering on the left chest
Stand-up collar
stowable hood with drawstring
full zip
two open side pockets
Ventilation holes under the arms
elastic cuffs
adjustable hem with drawstring
water-repellent, lightweight material

No. 9: Socks
Material: 70% polyester, 15% cotton, 15 elastane
Brand logo and lettering on the Socks
ribbed, elastic end
stretchable material
close-fitting fit

No. 10: M ütze
Material: 100% polyacrylic
Brand logo on the brim
Envelope brim
elastic material
adapts perfectly to the shape of the head

No. 11: Bag
Material: 100% polyester
Brand logo on both sides, the handle and the shoulder strap
Dimensions (circa dimensions): height 52 x width 52 x depth 36 in cm
a large main compartment with a two-way zip
a front compartment with zipper
two side compartments with two-way zip (each on one side)
a bottom compartment with two-way zip (ideal for stowing shoes) can be reinforced with the supplied packaging tray
a side pocket with hook-and-loop fastener made of mesh material
a detachable shoulder strap with a clip fastener and a padded element
two handles, can be combined with hook-and-loop fastener
five feet on the bottom part
robust material